Water Damage and Restoration
When you experience water damage, it is crucial to act immediately to prevent further water damage. Though we know you may be shocked by the events that led to the water damage, you need to pull together and take action so that the cleanup process is not expensive. Water damage restoration experts will help make your house look the way it did before the damage. With our restoration services, you can rest assured we will remove all the water from your property.
Are you wondering how severe your water damage is? Call us for a Free Estimate.
We will perform a free assessment and walk you through the recommended next steps.
Why Choose Super Clean Restoration?
24/7 Immediate response
40+ Experience in restoration
Direct insurance billing
Licensed Technicians
Get Free Estimate!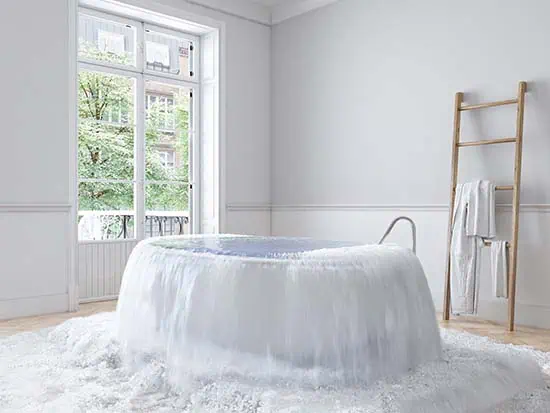 Flood Water Extraction
24/7 Flood Water Removal
Waste Water Removal
We will help remove water
Flood Water Repair
We will repair water damage
Water Damage Restoration
We will help restore your home
We're Here For You 24/7 in the Florida Area!
How Does Water Affect My Home?
Water has many negative effects on your house. It does not only cause structural damage to your property but also presents risks for health hazards. Standing water can breed pathogens and other bacteria, which can lead to serious respiratory illnesses. In addition, the moisture will cause mold growth which may also cause allergic reactions and affect your health.
Water Damage Removal and Cleanup
Removing water that has flooded your home due to a pipe or sewage leakage is a hard job. That is why you should leave it to water damage professionals. Additionally, water damage restoration and repair involve more than vacuuming visible water on the floor. Your property has various porous materials that absorb moisture faster.
Moreover, when water gets too deep into your walls, it could destroy the home's structure. That is why you need to contact our company fast before the water damages your home and belongings beyond repair.
Why Choose Us For Water Damage Cleanup Florida
Water damage restoration is an emergency service where our technicians will replace all materials damaged by water, including drywall and insulation. Working incredible service providers will put you at ease since you will know they will do a great job and restore your home to its state. Here is why you should call our company.
Highly Qualified and Trained Professionals
We specialize in water damage cleanup and restoration services. Our technicians have adequate training on water damage restoration, thus highly skilled to perform the task. What's more, they know how to monitor and document the drying process of your home until completion.
Industry Experience
We have more than 40 years of water damage restoration experience. Our company has been providing Florida residents with exceptional restoration services for years. Having worked in the field for a long time, we know the best techniques to eliminate water from your premises completely.
Furthermore, we have invested in high-tech water restoration equipment to assist our clients. Our specialists use advanced tools to detect moisture in hidden parts, quickly remove floor water, and thoroughly dry your walls and other belongings.
Contact us!
24/7 Availability
We understand that water damage can happen at any time. Due to this, we offer clients 24-hour emergency services. Need help at odd hours, holidays, or weekends? We are here to serve you. We will come fast to your rescue and help extract water before it causes more damage. As soon as we arrive at your home, our technicians will get to work to ensure they minimize your restoration expenses.
Water damage poses serious threats to your home if left unattended. We offer reliable and trusted water damage restoration services at great prices. Need more information about our services? Call or email us to schedule an appointment.
Call Now!